Mission — To preserve the wild, scenic and cultural heritage within the watershed of the North Fork American River.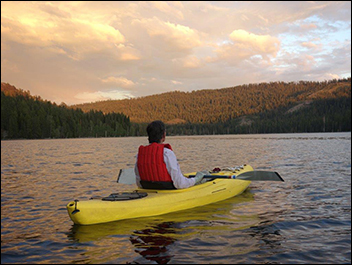 Kayaker on Long Valley Reservoir, July 2014
Great Sierra River Cleanup
Join NFARA on Saturday September 20 and help us clean up trash sites in the Mineral Bar/Pennyweight Trail area near Colfax. More information is here, or contact Ron Gould (rgould@northforktrails.com).
We welcome your comments and questions, tales of adventures along the North Fork, and invite you to attend the NFARA program meetings and business meetings. Consider becoming a member.
8/29/12 - Suction dredge mining update!
Updated 8/14/14