Activities
Meetings | Hikes | Trailbuilding / Cleanup
Meetings
We meet monthly on the third Tuesday of each month, and alternate business meetings with program meetings. Our meeting information is on the NFARA activity calendar.
Hike in Gold Run Diggings

On Saturday, March 29, the North Fork American River Alliance will partner with the Sierra Club on a hike to the BLM lands in the southern part of the Gold Run Diggings. We will follow seldom-used trails and an old mining ditch. Enjoy views of the American River Canyon while visiting an abandoned miner's cabin as well as other sites in this historic mining area.

This will be approximately a 5 mile hike with about 700 feet of elevation gain. Bring water, lunch, appropriate layers, a hat, and good boots. For meeting time and place or further information contact Ron Gould at rgould@northforktrails.com (preferred) or 530-878-9232.
Short Story of the Miner's Cabin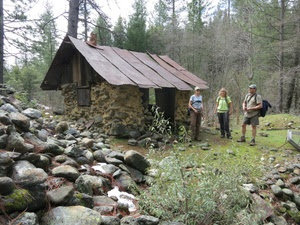 The old stone cabin in the Gold Run Diggings has been severely damaged. During a storm sometime between Thanksgiving and Christmas 2012, a tree fell on the cabin. Located on BLM land in the Indiana Hill Pit area, the cabin is a popular destination for those exploring the diggings.

Russell Towle called the Indiana Pit area The Secret World because as one enters the pit afterr a short walk through a tunnel, it is like emerging into a "secret world".

Not much is known about the history of the cabin. In November, 2003 Russell Towle wrote:
"In the Secret World is a small stone cabin, built I believe by one Byron Emric, maybe in the 1930s. He used clay for mortar, and gleaned some corrugated sheet iron for a roof. Un-fortunately, the cabin was vandalized in 1998, and appears to have been struck again in 2003. A large part of the wall around the door has now collapsed."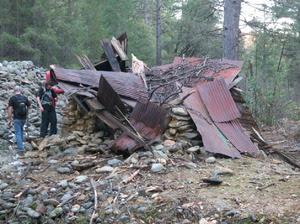 Three years ago, North Fork American River Alliance volunteers cleared brush on the access trail to the cabin. NFARA also had discussions with the BLM about helping them stabilize the cabin to a state of "arrested decay". Unfortunately, the cabin took a direct hit from a snag and is probably too damaged to restore.
We want to share the canyon with others. Check the NFARA activity calendar. for hikes.
Updated 3/7/14